As a member of the World Trade Organization (WTO) since its foundation in 1995, Malaysia has always been a supporter of an open global economy. Thus, it has always worked in this direction, and has a simplified regulation that is favourable to international trade. In this article, DocShipper Malaysia presents you with all the knowledge that an importer in Malaysia needs to have in order to smoothly ship his cargo.
How to start an import business in Malaysia?
Are you interested in participating in international trade activities in Malaysia, but you don't know how to get started ? Here are the most common and accessible jobs in international trade.
Importer
This international entrepreneur is not affiliated with a particular company and is not specialized in a single type of product or industry. His job consists of ordering products directly from suppliers and then managing the packaging, shipping and sales/distribution of his merchandise. He is fully responsible for all risks and rewards.
Supplier representative
It is a sales representative specialized in a field or a type of product. We can take the example of a salesman specialized in household appliances (televisions, CD players, Hifi systems, Home Cinemas...). Affiliated with a supplier, it manages the import of products and their distribution. It often provides technical assistance to the retailer, such as storage and after-sales service.
Sales representative
He does exactly the same job as a distributor's representative. On the other hand, it is different because it is not specialized in a specific type of product or field.
Wholesaler or distributor
A company that imports wholesale products from one or more suppliers, resells them directly to retailers or other independent agents, who will themselves manage distribution to the final consumer.
Import licences
There are two types of import authorizations in Malaysia, first of all there are import licenses and Approved Permits (APs).
Import License
To import goods requiring an import licence, you must first register with the Companies Commission of Malaysia. Once registered, you must apply for an import license from the Ministry of International Trade and Industry (MITI). This can be done through the Malaysian web-platform Dagang Net.
Approved Permit (AP)
Some products require an Approved Permit (AP) before import. About the AP procedure :
PAs are issued by the Permit Issuing Agency (PIA). The request to obtain this document is made at the government website mytradelink
To do this, you must first request an electronic permit (epermit).
Generally, it takes between 3 and 7 business days for your AP to be issued. Once issued, it is valid for 6 months.
For any other product, no AP is required but the import declaration must be submitted online under If your product does not require an AP to be imported, the mytradelink site will submit your import declaration via the eDeclare portal.
Products requiring import authorization
The following products require specific authorizations to be imported:
All meat and meat products must have Halal certification issued by the Department of Islamic Development of Malaysia (JAKIM)
As Malaysia is a predominantly Muslim country, pork and alcohol are subject to higher customs duties
Agricultural products
Food products
Plants
Cosmetics
Firearms, explosives and ammunition
Medicines
Hazardous products
Metals and related products
Heavy equipment
All motorized vehicles
A complete list of properties requiring a license can be found here.
Importing samples
Textile samples must be stamped "commercial sample" to be imported, therefore, there must be no more than three samples per product.
Documents required for an import
To import products into Malaysia, you must submit the following documents to the customs authorities:
Import declaration (Custom Form No.1)
Commercial invoice
Bill of Lading
Packing list
Certificate of Origin
Free Trade Agreements (FTAs)
Malaysia is involved in 7 FTAs and 6 regional agreements. Malaysia has signed bilateral agreements with:
Australia
Chile
India
Japan
New Zealand
Pakistan
Turkey
Malaysia is also an ASEAN member country, which has 5 regional free trade agreements with:
Australia
China
India
Japan
Korea
To be able to take advantage of these FTAs, you must present a certificate of origin to the customs authorities as soon as your goods arrive. Malaysia has created a Free Trade Agreement Calculator to make it easy for you to determine if your goods are eligible for a reduced rate.
For all other countries that do not have FTAs, Customs Duties Order 2018 details all applicable rates produced based on the country of origin.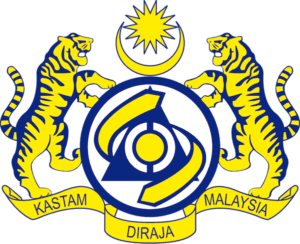 Customs import procedures
Regardless of whether or not they are subject to customs duties, all imported goods must be declared in Customs Form No. 1
Each declaration must indicate the specific number of products included in the shipment. The declaration must also include a detailed description of the goods, including their packaging, value, weight, dimensions, country of origin and final destination within Malaysia.
Declarations must be submitted to the customs office where the goods are imported. All customs duties and taxes imposed must have been paid before the goods are imported.
Malaysian Custom's logo
Import taxes and customs duties
Approximately 75% of imports into Malaysia are not subject to customs duties. Malaysia's tariff barriers are largely applied ad valorem, ranging from 0 to 50%. On average, the rate for imported industrial goods is 6%, which is relatively low compared to other countries in the world. Import duties are based on the price of goods, insurance, freight, and any other charges inherent in their purchase or transport.
Raw materials imported into Malaysia for processing and re-export benefit from reduced customs duties, especially if these raw materials are difficult to source locally. Also, machinery, basic foodstuffs, pharmaceuticals, tourism-related products and all products in common use are generally exempt from customs duties or subject to reduced customs duties.
VAT on imported goods is 6% in Malaysia, unless special exemptions are applied.
As you will have understood, Malaysia is a country that is very open to international trade, which encourages it by applying few constraints on its international flows of goods and investments.
Method of payment of customs duties
Customs duties and taxes must be paid to customs by bank transfer, before the customs office authorizes the import.
Free zones
Malaysia currently has 13 industrial free zones and 12 commercial free zones. Companies operating in these areas do not have to pay customs duties to import goods.
Product and labelling standards
Department of Standards Malaysia, under the Ministry of Science, Technology and Innovation, is responsible for giving instructions on product standards and labelling.
FAQ | Customs Clearance in Malaysia
How long does custom clearance take in Malaysia ?
Once all customs and taxes have been paid, a cargo will only be approved and issued in Malaysia. Customs may release a package before it ever arrives. Otherwise, it can take 24 to 48 hours after shipment arrival for the package to be released if there are any problems with the documents or the shipment.
How is customs duty calculated in Malaysia ?
The value of the imported products, freight charges, insurance, and any other expenses should all be added together, and the total should then be multiplied by the duty rate to determine the import duty. The amount of import duty you will be required to pay for your cargo as a consequence.
How much is the import duty in Malaysia ?
Although they may also be imposed on a particular basis, import tariffs are often assessed on an ad valorem basis. Ad valorem import duty rates might be anything from 2% and 60%. Raw materials, equipment, necessary foodstuffs, and medicinal items are often exempt from duty or subject to reduced rates of duty.
Which documents are required for customs clearance ?
The documents required for customs clearance are: bill of exchange, letter of credit, bill of sight, shipping bill, customs invoice, COO certificate, customs packing list, proforma invoice, export license, health certificate and warehouse.
DocShipper Advise : We help you with the entire sourcing process so don't hesitate to contact us if you have any questions!
DocShipper | Your dedicated freight forwarder in Malaysia !
Due to our attractive pricing, many customers trust our services and we thanks them. Stop overpaying the services and save money with our tailored package matching will all type of shipment, from small volume to full container, let us find the best and cost-effective solution.
Communication is important, which is why we strive to discuss in the most suitable way for you!