DocShipper Malaysia has been operating in Malaysia for many years. We have been able to build expertise and a strong network, which allows us to offer the best ground transportation services available on the market. We can cover any warehouse, airport, port or destination within the country. With updated tracking software based on data analysis and information-based management, we provide reliable tracking services to ensure fast and efficient delivery of your road shipments.
You need to ship it across Asia? Check further about our cross border solution!
DocShipper Advice : Road freight is becoming increasingly important in Malaysia (and in Asia), and it is now a key asset in the supply chain. Choose the best services, choose DocShipper! Contact us. 
Trucking services from / to / in Malaysia
We provide our customers with the most reliable and flexible ground transportation services. As an efficient freight forwarder based in Malaysia, DocShipper understands the importance of tailoring our offer to your budget! We are committed to providing you with services that meet your expectations and your budget: That's why we offer flexible options.
Here are some of the national shipping services we offer:
Less Than Truck Load (LTL)
This type of shipping is for you if you do not have enough goods to fill a complete truck, we will ensure a secure consolidation to ship your products with others. This is the same process as for ocean freight. This is a cost-effective option that allows you to move your goods quickly and inexpensively to the agreed final destination.
Full Trucking Load (FTL)
Unlike LTL, this type of shipping is for you if you have enough goods to fill a complete truck, or if you do not want your goods to travel with others. We will move your cargo directly from point A to point B. This option is faster and more efficient because we do not have to sort your products from other customers' shipments.
The smallest consignments in vans
For smaller parcels, we have set up a new service: if you need to carry your small goods across the country, or if you need large cargo goods quickly delivered to any city in Malaysia, our vans are perfectly adapted!
Rail and intermodal transport
We also provide rail freight within Malaysia or to neighboring countries. This type of shipment requires intermodal transportation services to transport your goods to the loading dock. This is why road freight is also involved. DocShipper is specialized in this type of pre-routing services in Malaysia.
Refrigerated trucks
We can even handle all the difficult expeditions you may have. If your goods need to be shipped in refrigerated trucks, contact us now ! Whether you need to ship under the gel, at a cool temperature or at a specific humidity level, we have a solution for you.
Van and heavy goods transport
Another difficult type of shipping that we are used to handling is the heavy goods service. Whether you need to ship oversized products, heavy items or machinery, our flatbed trucks and heavy haul trucks are made for this type of shipment. We are experts in this type of expedition, relying on the expertise of our staff dedicated to Project Cargo. We will find the best logistics solution for your specific requests.

Transit times between China and Malaysia
Save money for your delivery : Share a truck
This is exactly the same process as for the LCL in ocean freight shipments, but for road freight. Your goods may not fill a complete truck: in this case, they will be shipped with other products, from other customers, to the final destination agreed.
This is the cheapest option because it allows you to not rent a full truck for some goods. You pay for the space you use! The parcels will be transported to the same destination, before being sorted and delivered to their own final destination.
DocShipper is able to handle this type of shipment on a weekly basis. First, we need to find other customers who are willing to share a truckload and need to ship to the same destination. This is where our strong network makes a huge difference.
Through this network, we are able to decide for you which carriers are the most appropriate to handle this process. We adapt our services to your budget and your expectations. Each package will be tracked with its own serial number, to enable effective and transparent tracking.
Truly dedicated to providing the safest and most efficient services, DocShipper is committed to immediately notify any delay or interruption of road traffic, unforeseen event .... We maintain constant contact with our staff, who keep us informed at every step of the supply chain.
DocShipper info : You want further information about other shipping method ? Feel free to check our dedicated pages :
You can also find further information about the ASEAN organisation on the following link: ASEAN | association of southeast asian nations
ASEAN - China - India : Cross border across Asia
DocShipper Cross-border services
DocShipper has been a pioneer in cross-border shipments from Malaysia to the neighbouring countries of ASEAN (and then China / India). We have been offering this service for over a decade.
The strong network we have built, as well as our fleet of modern trucks, allow us to offer a high quality service to our customers. We can provide weekly transportation services between Malaysia and China, Vietnam, Myanmar, Laos, Thailand, India and Singapore along the continent.
Highly efficient road transport option
With many years of experience in handling cross-border truck shipments, we ensure the safety and efficiency of your cargo, ensuring modern equipment, dedicated personnel and ongoing monitoring throughout the process.
Our drivers have been doing this for many years, giving them solid expertise to better manage any problem that may arise during the process. We have also integrated a data-driven solution into our supply chain to ensure complete process transparency and keep you informed at all times.
Our strong cross-border network connects Malaysia with major Asian countries, providing cost-effective long-haul and door-to-door delivery services to any destination. We are proud to offer you the best services available on the market thanks to this unique network.
Cross-border combined with door-to-door services
We provide weekly door-to-door services to major destinations throughout Southeast Asia. Here are the main destinations we usually ship to:
Cross-border services from Malaysia to China
We cross Laos and Thailand to arrive in China, depending on the city of departure. A departure from/to Kuala Lumpur is scheduled every week.
Cross-border services from Malaysia to Singapore
For Singapore, it's very quick. Depending on where the departure is in Malaysia but we just need to cross one border to reach Singapore.
Cross-border services from Malaysia to Vietnam
The Malaysia-Vietnam trade route offers a decent and fast alternative to the usual sea freight solution. At DocShipper, we make sure to provide an easy and fast customs clearance process during the transportation process, on the border between Cambodia and Vietnam. We connect Malaysian's largest cities to Ho Chi Minh City, Hanoi, or anywhere else in the country.
Cross-border services from Malaysia to Cambodia
For Cambodia: we cross Thailand, go on the east side of the country to reach the Cambodian border.
Cross-border services from Malaysia to Thailand
As for Singapore, Thailand is very easy to deliver through our truck. It's even the best solution so far: the cheapest and fastest, even if you plan to ship your goods to the north of Thailand, such Bangkok or even Chiang Mai.
Cross-border services from Malaysia to Indonesia
Indonesia could be the most difficult country to deliver by road from Malaysia. Contact us now, we will find the best logistics solution for your shipment from Malaysia to Jakarta, or to other cities in Indonesia.
Here is the map of the main road in Asia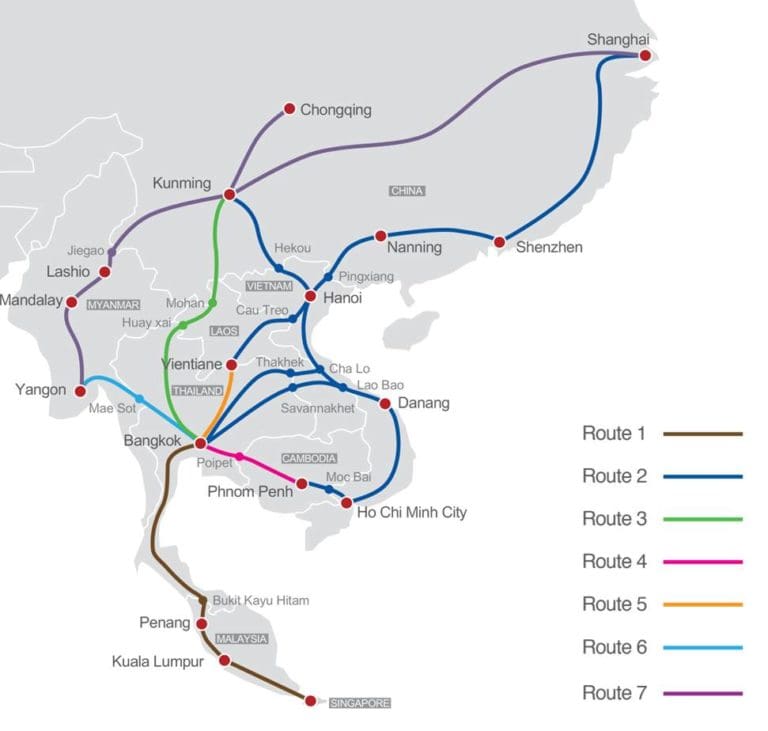 DocShipper vs. other forwarder agents: Why choose us?
If you are looking for a high quality transportation service for your transportation needs in Malaysia and Southeast Asia, DocShipper is the best choice for you. We are an experienced, flexible and customer-oriented freight forwarder, based in Malaysia, dedicated to meet your requirements. Long-term business relationships are also one of our main concerns. We try to stop regular traffic with our customers. This will help you grow your business knowing that you can count on an efficient logistics partner.
Get a quick quote for road transport
First of all, the very first step for us is to gather as much information as possible about the volume you need to ship, the type of products, the volume, etc. Thus, the more information we collect, the more accurate the quote will be. You can contact us at your convenience for any question or doubt you may have!
We will review your request and propose the most appropriate option. We can communicate in Thai, Malay, English and French.
FAQ | 🚚 Trucking services in Malaysia 🇲🇾
How can I start a transport company in Malaysia ?
You must get a car rental and vehicle leasing license from the Land Public Transport Commission in order to operate a transportation service (APAD). You must make sure that every driver in your organization possesses a Vocational Driving License (VDL) or Commercial Driving Licence in addition to your APAD license.
How do transport companies get clients ?
Message the shippers. Contact companies who ship a lot and offer your services to them to expand your clientele. Even though cold calling might be challenging, if you put in the effort and are able to deliver the service, you will attract clients. Look for contracts in the public sector.
What type of industry is trucking ?
The transportation and warehousing industry includes the truck transportation subsector.
How do I get trucking contracts ?
Establishing a network is among the finest techniques to obtain additional contracts. You're more likely to receive contract recommendations the bigger your network is. Utilizing resources like Truckstop.com's Book It Now is a fantastic approach to establish a network with brokers and shippers.
DocShipper info: Do you like our article today? For your business interest, you may like the following useful articles :
DocShipper Advise : We help you with the entire sourcing process so don't hesitate to contact us if you have any questions!
DocShipper | Your dedicated freight forwarder in Malaysia !
Due to our attractive pricing, many customers trust our services and we thanks them. Stop overpaying the services and save money with our tailored package matching will all type of shipment, from small volume to full container, let us find the best and cost-effective solution.
Communication is important, which is why we strive to discuss in the most suitable way for you!